Hyatt Centric Waikiki Beach: Stylish, Affordable, and Just Two Blocks from the Beach
We got the chance to check out the new Hyatt Centric in Waikiki last week for a mini-staycation (we celebrated my husband's birthday) and it was so cute that I just had to share. Rooms are $250++/night, which is pretty reasonable in Waikiki.
Lobby / Reception / Bar
Upon arrival, take the elevators up from the ground floor to the 7th floor reception desk. We were pleasantly surprised by the nice amount of light and openness and the cute "island mod" decor.
There's an adorable little bar near the pool deck serving wine, cocktails, and a couple of beers from Kona Brewing Company on tap.
The pool is very instagrammable but it's windy as heck and not very deep. My 2 year-old daughter had a great time splashing around anyway. There's a pretty big jacuzzi at the far end (in front of the cabanas).
Room Photos
The Hyatt Centric Waikiki Beach offers 230 rooms and 30 suites with either one king or two queen beds, and either mountain or partial ocean views (I wouldn't call these full ocean views because the hotel is 2 blocks from the ocean and views are obscured by other buildings). We used a Hyatt free night certificate and were placed in a King room on the 19th floor. Room was bright, airy, and meticulously clean.
Bathroom had lots of storage space for toiletries and a mini-soaking tub that was perfect for our toddler.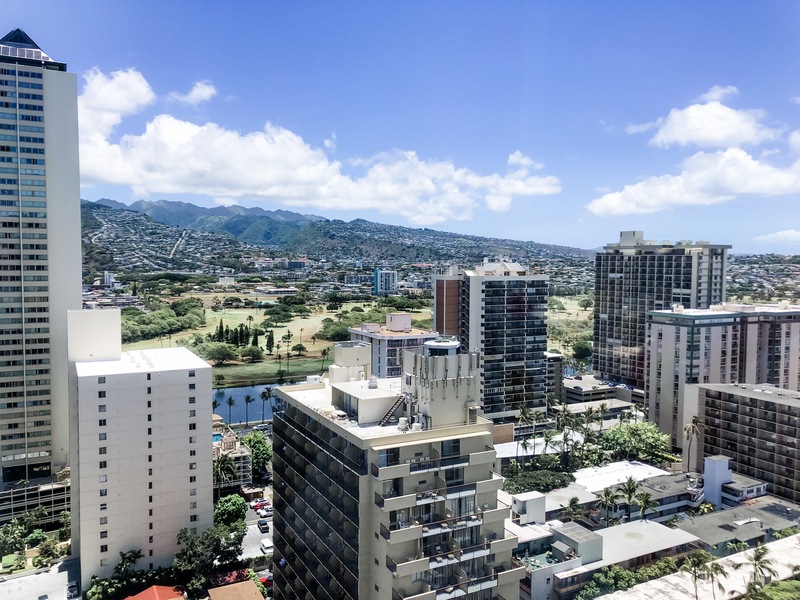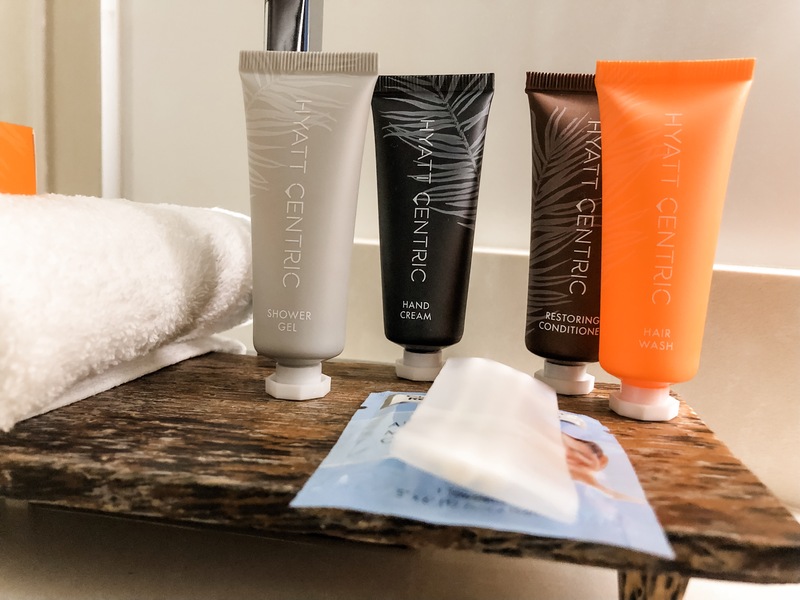 Yay! List
Location, location, location. Just two blocks from the beach and a short walk from the shops and eateries of Duke's Lane and International Market Place. On the ground floor of the hotel you'll find a Nordstrom Rack, a Starbucks Reserve coffee shop (we fancy!), a Jamba, an American Savings Bank, and even an Enterprise Rental car office. So convenient!

It's new (it just opened in 2017), so everything is nice. I love it when it feels like you're one of the first guests to stay in a room.

Super cute design and decor reminiscent of the Surfjack and the Laylow (which I also loved and wrote about here).
Eh. List
The (gorgeous!) pool isn't really made for adult swimming, per se (it has a maximum depth of under two feet). Our toddler loved the pool though, and there is a fairly spacious hot tub if you're into hot tubs!

Like most other Hawaii hotels, the Hyatt Centric Waikiki Beach charges a nightly resort charge of $34.55/night. Included in the charge are various rentals (GoPros, beach chairs and umbrellas, boogie boards); 2 reusable water bottles; sunscreen; local/long distance calls; WiFi; and activities like lei making, yoga, and s'mores making (not offered daily). But really, I don't really care what great amenities are included in the resort charge; I just always think this charge should be folded into the nightly rate. Note that you don't pay this resort charge if you are redeeming Hyatt points for a free night award.
Hyatt Centric Waikiki Beach
Loyalty Program Details: Hyatt Category 4, 15,000 points/night - this is a fantastic use of your Hyatt free night certificate, if you have it!)
Address: 349 Seaside Avenue, Honolulu, Hawaii, United States, 96815 (Seaside and Kuhio Ave)
Parking: $45/night valet; $42/night for self-park
Website: Hyatt Centric Waikiki Beach
Phone: 1 808 237 1234
As always, contact me with questions or to book! You can still get the very best rate and earn points when booking with a travel agent!