Grand Hyatt Kaua'i | a Luxury Resort
In November we took a three-night trip to the Grand Hyatt Kaua'i to take advantage of a mistake rate that Hyatt had accidentally posted on their website and which the hotel graciously agreed to honor. The Grand Hyatt reminded me a lot of the Grand Wailea (a Waldorf Astoria resort that I wrote about before here), but on a slightly smaller scale. Both the Grand Hyatt Kaua'i and Grand Wailea are sprawling, spectacular oceanfront properties that are particularly great for vacationing families.
Our room: Oceanview King with Grand Club Access
Our ocean-view king room was spacious and had a gorgeous view of the water. The decor was what I'm going to call "modern tropical" with the sand-colored carpet that is super popular nowadays in high-end beach resorts.
The bathroom was nice and large with a glass-enclosed shower and a separate water closet for the toilet.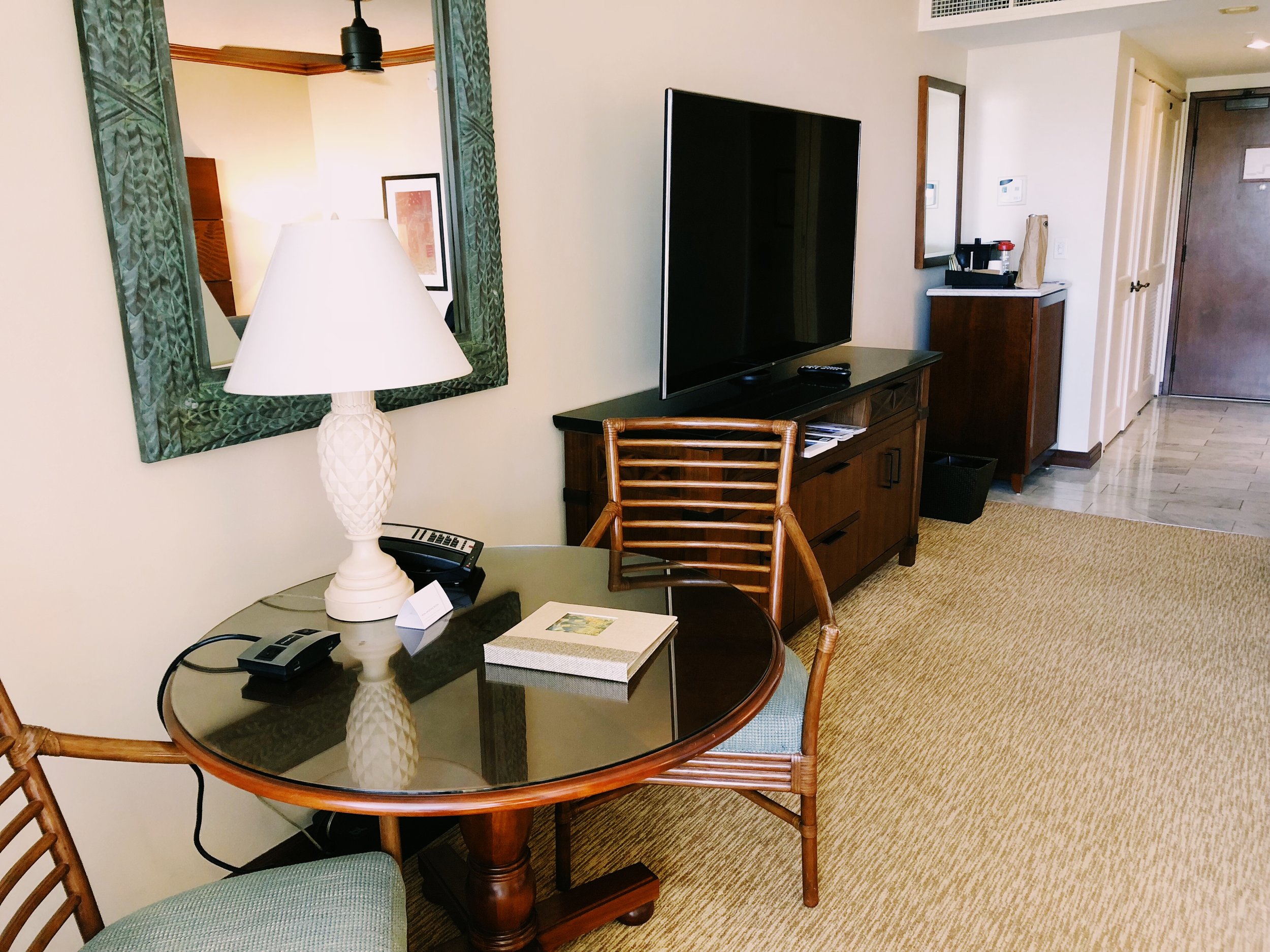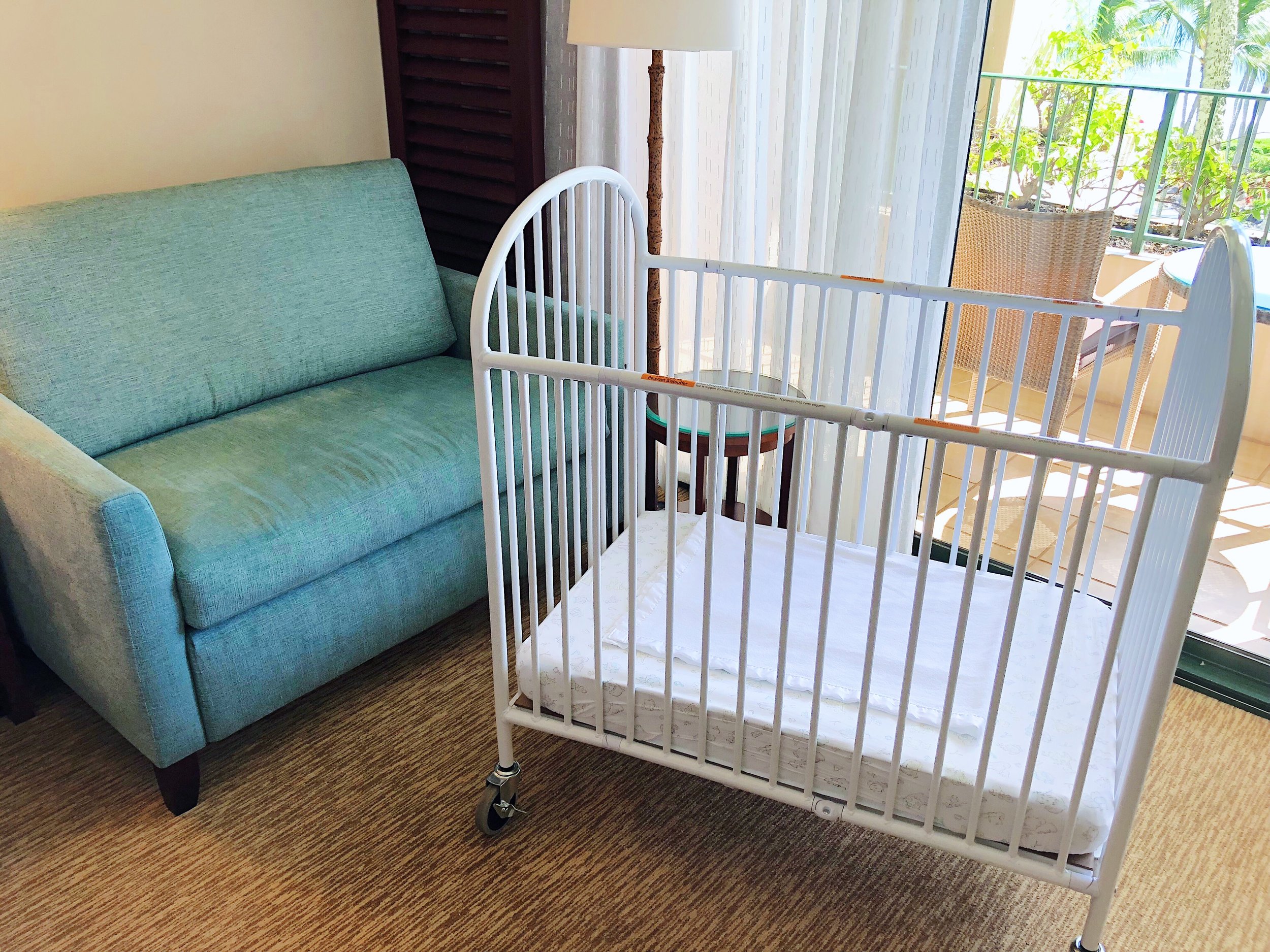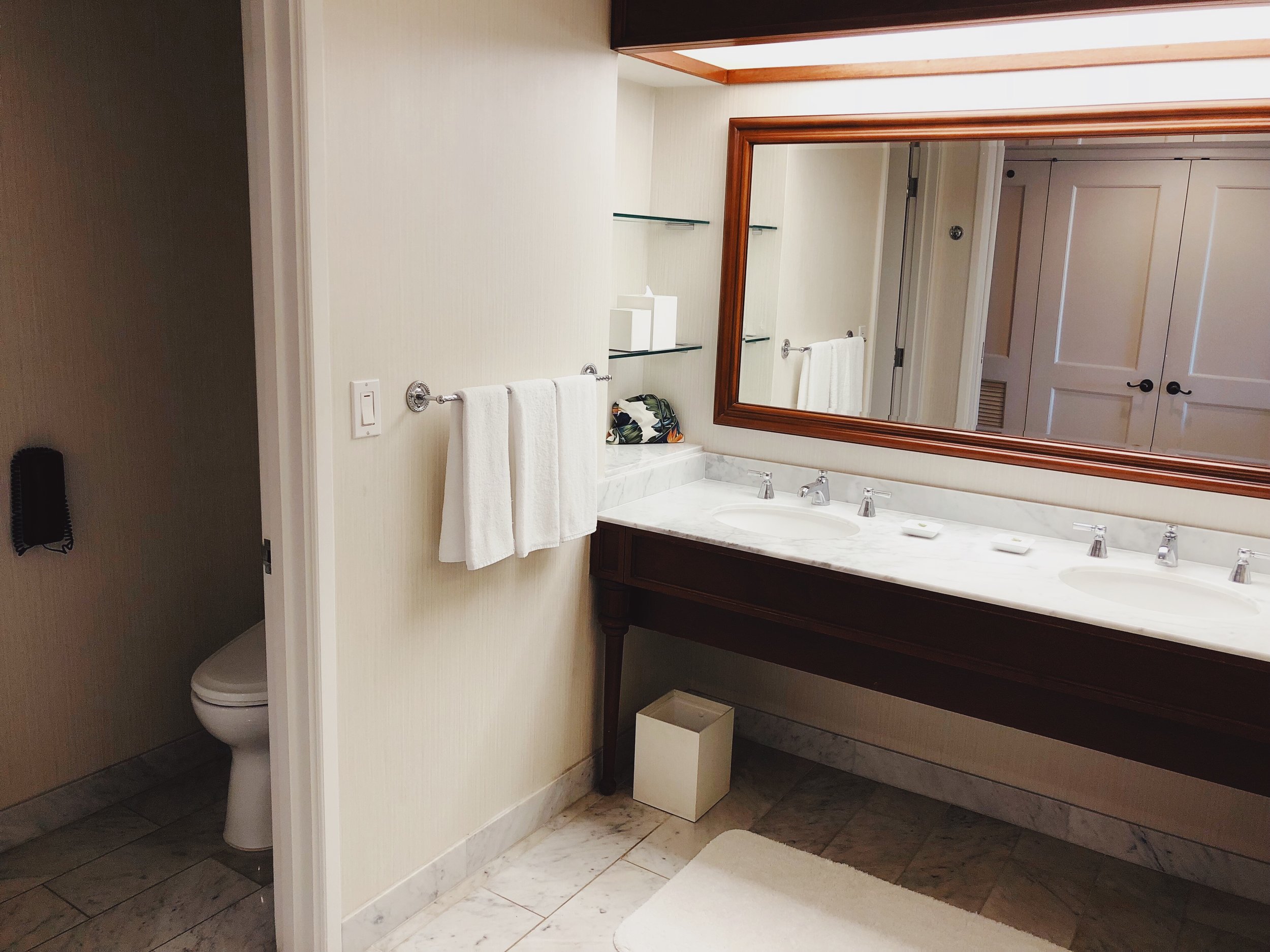 Grand Hyatt Kauai Grounds - Pools, Slide, and a Saltwater Lagoon
We loved the swimming pools and especially the salt water lagoon. There's a slide and a small lazy river and lots of different areas to hang out by the pool.
The lagoon was dreamy and my toddler loved "swimming" (i.e., being carried by us while we cheer her on to "kick, kick!") in the warm salt water.
Review of the Anara Spa at the Grand Hyatt
My husband encouraged me to get a massage at the Anara Spa, and I'm a smart woman so I happily agreed. I reserved a 50-minute aromatherapy massage ($190 plus tip and minus a kama'aina discount, if applicable).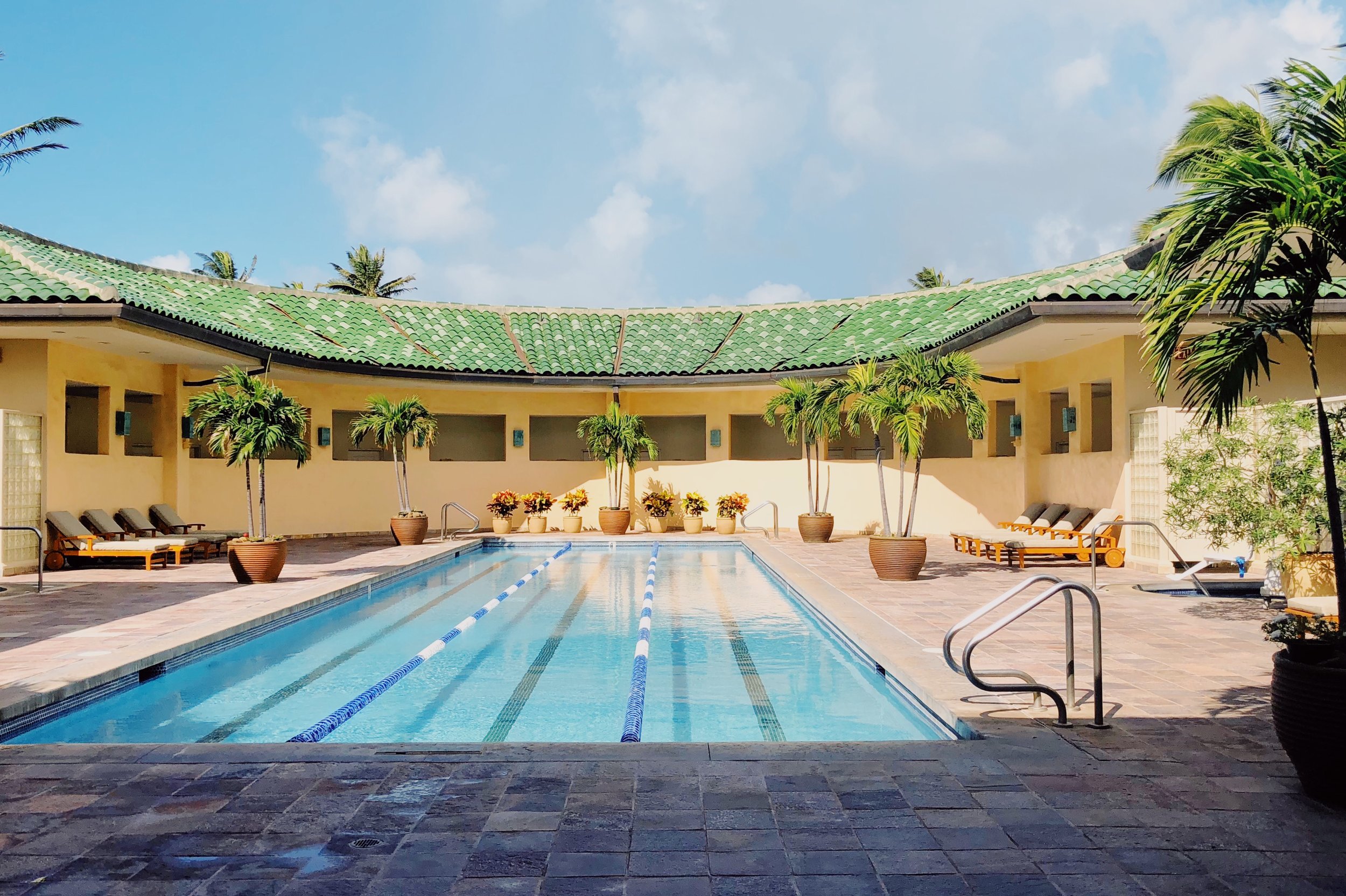 After touring the facilities (steam room + sauna + locker room) and changing into my robe, I poured myself a cup of cold fruit-infused water and looked in vain for a muffin or cookie. I took a seat in a lounger, put my headphones, and waited for my masseuse to arrive.
My masseuse ended up being like 5 minutes late, so in my head when I met her I was already weary of being cheated out of precious massage minutes. That's when I noticed a large bandage on her middle finger. She explained that she had a hangnail and that it wouldn't impede her job performance in any way, but I was skeptical. Anyway - long story short: was it a good massage? Yes, but it wasn't amazing. I did get to relax which was lovely but I could have used more pressure. Did I tip her anyway? LOL, absolutely.
The spa facilities are small but nice and the lava rock shower area is one of the nicest I have ever been to. So if you're at the Grand Hyatt, yes get a spa treatment but message me and I'll tell you the name of my masseuse so you avoid her.
Grand Club - Executive Lounge
My husband booked us a room with access to the Grand Club executive lounge, which served a buffet breakfast in the morning, snacks in the afternoon, and an honor bar with pupus in the evenings.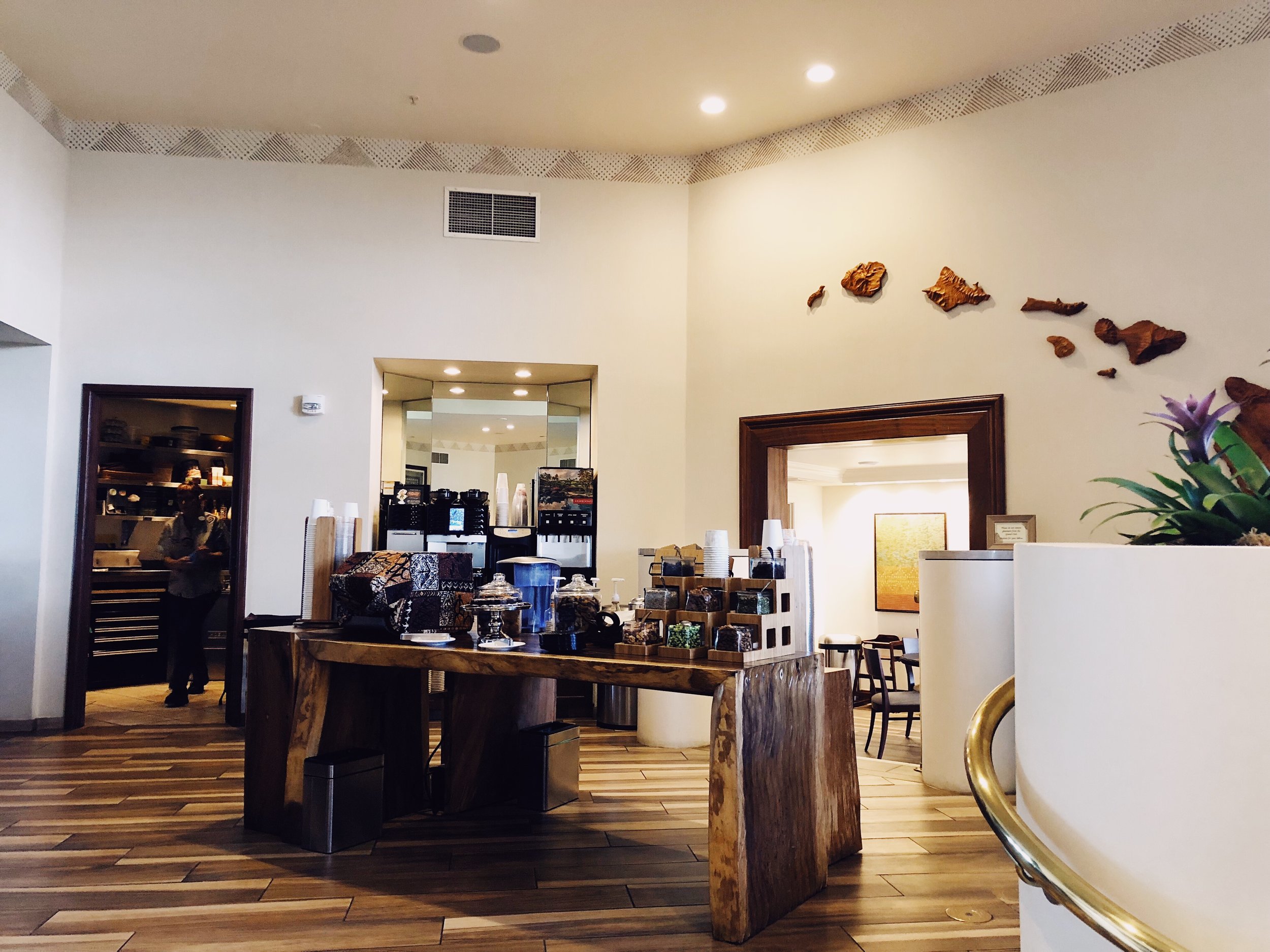 Resort Fee at the Grand Hyatt
I hate resort fees, but I have to admit that the Grand Hyatt Kauai's resort fee ($35 plus tax per night when we stayed last year) had better inclusions than a lot of other places we've stayed. The resort fee charge includes self-parking in an uncovered adjacent lot; fitness classes at Anara Spa including yoga and water aerobics; a self-service washer & dryer; and 2 complimentary reusable water bottles (with purified purified refill stations around the property). I loved this idea and the only thing that would make it better is if the water bottles weren't made of plastic, ugh. We didn't use the washer/dryer, but if we had been vacationing for week rather than just the weekend, this would have been priceless.
Overall Impression - Yay!
The Grand Hyatt was perfect for a family vacation to Kaua'i. The room was spacious and clean, the property is sprawling and beautiful, and the Grand Hyatt's private saltwater lagoons are absolute heaven. And the location is great — on a beautiful beach and in lively Poipu. We drove to The Shops at Kukui'ula two out of three nights and had really great dinners at Tortilla Republic and at Merriman's Fish House.
On previous trips to the Garden Isle we stayed at the Sheraton Poipu, the Westin Princeville, and the Koloa Landing Resort at Poipu. Message me and I'll happily answer questions about my impressions of those hotels!
Virtuoso Amenities at the Grand Hyatt Kauai
For 2019:
Upgrade on arrival, subject to availability-capped at Club Ocean View

Daily Buffet breakfast for up to two in-room guests

Daily Anara Spa access for up to two in-room guests

Welcome appetizer at Seaview Terrace, once during stay

Early check-in/late check-out, subject to availability

Complimentary Wi-Fi
Contact me to book or if you have any questions!