7 Must-Dos When in Rome | travelhappy tips
This September, we visited Rome for the first time in over ten years and oh-boy did I love it. We stayed at the St. Regis Rome which was impossibly lovely, ate boatloads of perfect pasta, drank lots of wine, and walked a lot. It was perfection. Here are my tips for a perfect Roman vacation:
(1) When in Rome, eat Roman pasta
Rome lays claim to a few pasta originals, including spaghetti carbonara and rigatoni alla gricia. Real carbonara made with an egg, never with cream, and done right, it is my favorite thing in the world. Rigatoni alla gricia — made with delicious crispy fried pork, might be my new second favorite thing.
But really. Just try it, and practice the magical thinking that you can't get fat from Italian pasta because it is just too fresh. (This works for me).
(2) Hire a private tour guide or take a group tour to visit the Colosseum and the Vatican Museum/St. Peter's
In Rome, I would highly suggest taking a tour of Vatican City and St. Peter's basilica and (two days later) the Colosseum and Palatine Hill. Because of Jules' age, group tours can be difficult, so we did private tours with A Friend in Rome. Best decision ever!
Our two guides (both Rome natives with flawless English) were super engaging and knowledgeable, and they were sweet and patient with Jules. Our Vatican tour was with Arianna, and our Colosseum tour was with Luca. They both get all the stars! Each private tour was about 2.5 hours long and 165€ plus the costs of entry tickets, which had to be bought ahead of time, and a small cash tip (we gave our guides 20€ each).
When my husband and I were in our twenties and early thirties, we always did everything on our own - guidebooks and maps in hand. But now that we're wiser — having gone on several city and food tours all over the world — we can't visit a new place without going on at least one tour. You learn so much!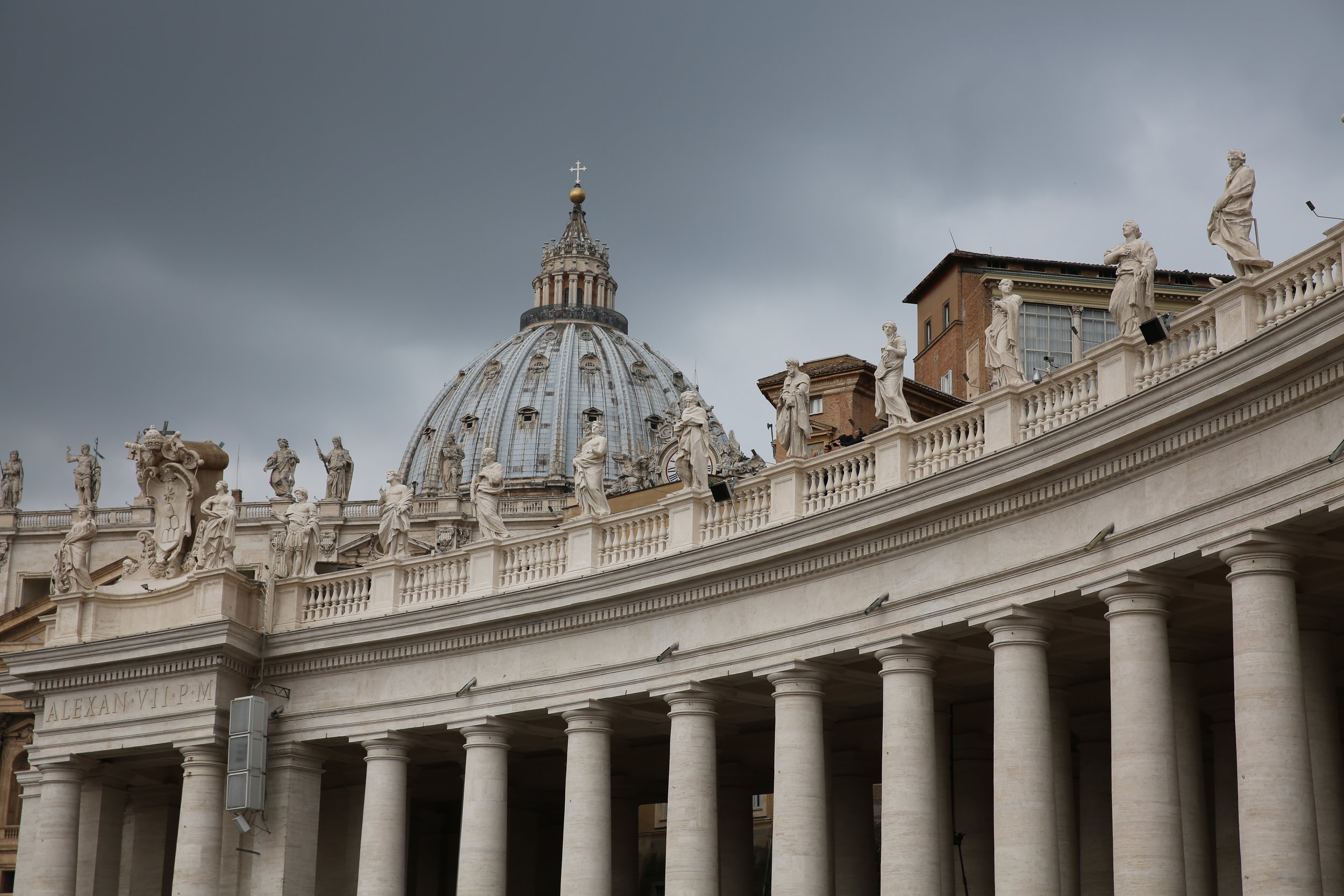 (3) Visit the Pantheon, Piazza Navona, and the Trevi Fountain
When in Rome, you must visit the Pantheon and marvel at this 2000 year-old feat of engineering that was once a temple and is now a church. It's a wonder.
Stroll through Piazza Navona, the prettiest square in Rome, with its fountains and public spaces and cute little restaurants.
Visit the Trevi Fountain and see what all the fuss is about.
Grab a euro cent, turn your back to the fountain, and toss a coin in if you want to ensure your return to Rome. It's worked for me so far. ;)
(4) Savor delicious (and relatively inexpensive) Italian wine
Because Italy has such plentiful good wine, price isn't necessarily an indicator of quality - meaning that you can get a great bottle for much cheaper than you would in the States.
If you're a pinot noir fan, you'll probably like wine from Montalcino. Rosso di Montalcino was our every night bottle; order Brunello if you're feeling fancy. It'll still be a lot less expensive than buying it in America.
(5) Have professional photos taken
This was actually the suggestion of Silvia of A Friend in Rome, and I am so, so grateful to her for this! Silvia helped to arrange our photographer, a photojournalist friend of hers named Natalino Russo, and we were so happy we did this. In addition to capturing our entire family on our memorable Italian vacation, we had the perfect souvenir. So great!
(6) Eat gelato + more gelato
Gelato. It's like ice cream, but more flavorful and without the accompanying stomachache that inevitably comes for me (I've become lactose-intolerant with age).
Also - if it's made well, you can eat gelato multiple times a day and not get fat. This is a fact. An alternative fact. But really. Gelato is so important that I even wrote a separate post entirely about eating gelato in Rome.
(7) Save room for pizza
Does it seem like I'm obsessed with food and wine? I kind of am! (and especially on vacation). Luckily for people with tastebuds, there's delicious pizza everywhere in Rome, sold by the kilo or by the pie. My favorite pizzas were at Emma, where we dined our final night in Rome. If we'd eaten there earlier in the week, we probably would have tried to go back. Holy deliciousness.
Is there anything I missed that you would consider a must-do in Rome? Let me know in the comments.
Dream bigger & travel happier!
- M